With Orlando being our home town and a camp we have help organized for years, you know we went all in.
Wapuu Superheros
This years WordCamp Orlando was Superhero themed. This was an exciting excuse to help discover a couple wapuus that where heavily influenced by some of our favorite heroes from both Marvel and DC with our own flare on the Wapuu hero along with some designs that are completely unique vigilantes.
Wonder Wapuu
---
Caption W
---
Tangerine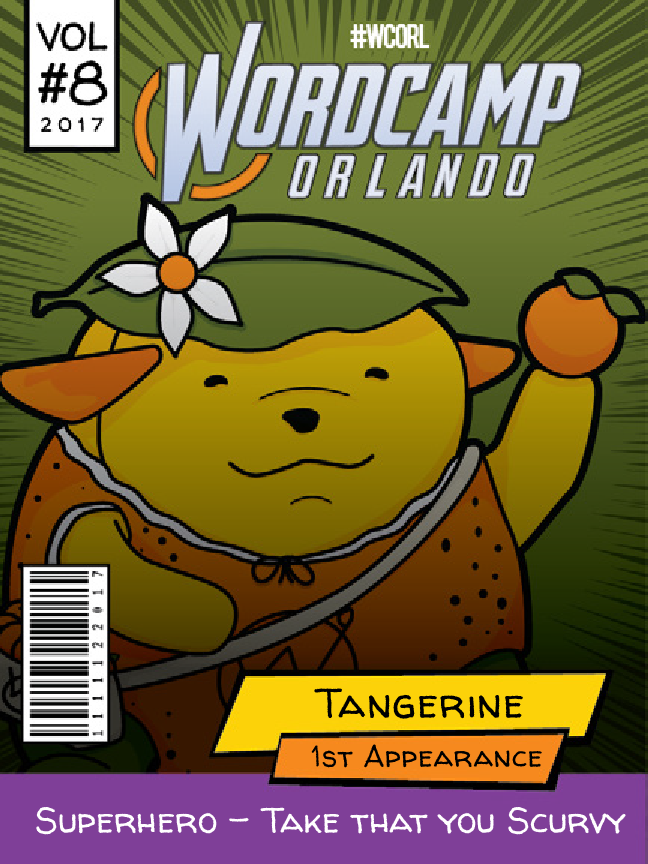 Tagline: "Take that you Scurvy"
Weakness: "To much concentration"
Influence: Every year we have been including an orange into our logo. We did do that but it was very subtle, then made Tangerine to make it obvious.
---
Batpuu
---
The Guruu
---
Wapuu Villains
You can have heroes with out villains, but we call them "The Misunderstood". In fact the villain where easy. We have a whole roster we never even got too. All the villains listed below are issues more WordPress developers face when first starting out.
Scope Creep
---
Cowboy Coder
---
Pixel Pusher
---
Black Hat
---
The Troll
Soldout
They soldout again this year. Hope you have a chance to go. Be on the look out for a upcoming blog post about all the swag we help design. Also, come and find us at WordCamp US 2017 for some Wapuu pins if you miss out!