WordCamp Orlando holds a special place in our hearts. They were the first to make Wapuu pins, and one of the first camps in the USA to embrace our Wapuu friends. It's also our native camp! Two of our ambassadors have been organizers for years. It was the first WordCamp to have all the Automatticians in one location. Granted Automattic was much smaller in 2009; but still counts!
With our fandom of all things wapuu, superheroes, WordPress, and Orlando, we had to help. With Wapu.us acting as a nonprofit, it gives us very little to help donate monetarily, but that does not mean we couldn't donate our time!
Marvel VS DC?
In our imaginary world where wapuu actually exists, there is no Marvel or DC. This allows us to show tribute, and pull influence from all our favorite heroes and villains, in any universe.
Logo
Since this is WordCamp "Orlando", we have always tried to include an orange. This year is no different. With the Avengers-esk logo, we were able to use the circle around the W as the orange, and the hashtag in green to represent the leaf.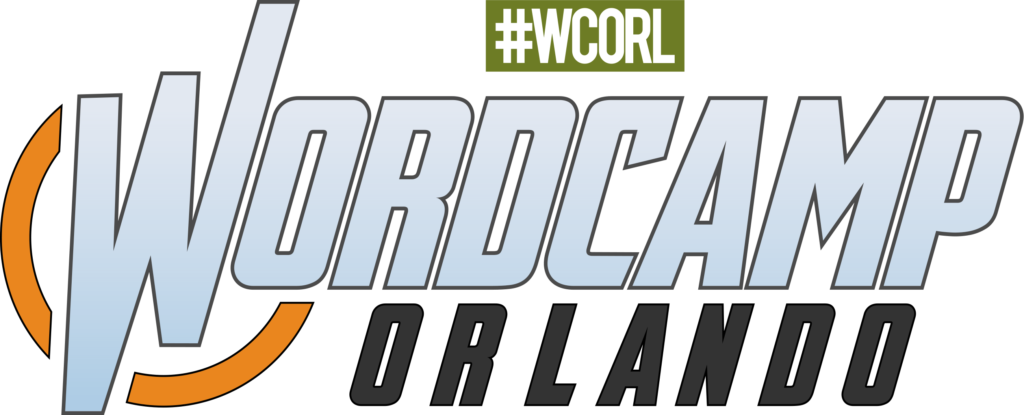 The Icon is also nice. We made sure there was one on the sticker sheet. One other cool thing is the luck of getting a "DC" logo right in the middle of camps logo. That is one of the coolest coincidence we have seen in a long time. Not to mention we were very torn on the main source of inspiration, and this allows us to showcase both greats in one tribute logo.
Wapuus
We wrote a whole blog post introducing all the new wapuus a couple weeks ago.
Check it out here:
https://wapu.us/wapuu-superheroes-villains-wordcamp-orlando/
Heroes
Check out these timeless videos of us making the #wapuu #Superheros for #WCORL. Still time to grab your tickets toohttps://t.co/vamIXsw2qp pic.twitter.com/vkz6rxOUWN

— wapu.us (@wapuus) October 31, 2017
Villains
Get your tickets for #WCORL before the "Misunderstood" grab them all up!

Food, swag, great content & people for $40https://t.co/FnPF23fTfd pic.twitter.com/5OdxRKzai3

— WordCamp Orlando (@WordCampOrlando) October 26, 2017
Social & Event Badges
Stickers
Would like to thank Sticker Giant for their support for WordCamps around the world. They did a great job on printing the sticker sheets. We made sure we used every free space on the sheet, despite all the room needed for bleeds!
Posters
Kids Camp
This was done super last minute the morning of the event. We grabbed the background image from the shirts and rearranged the cells a little bit. There is not much of a storyline, and for that, we are truly sorry. Next time we will make sure all swag is full canon.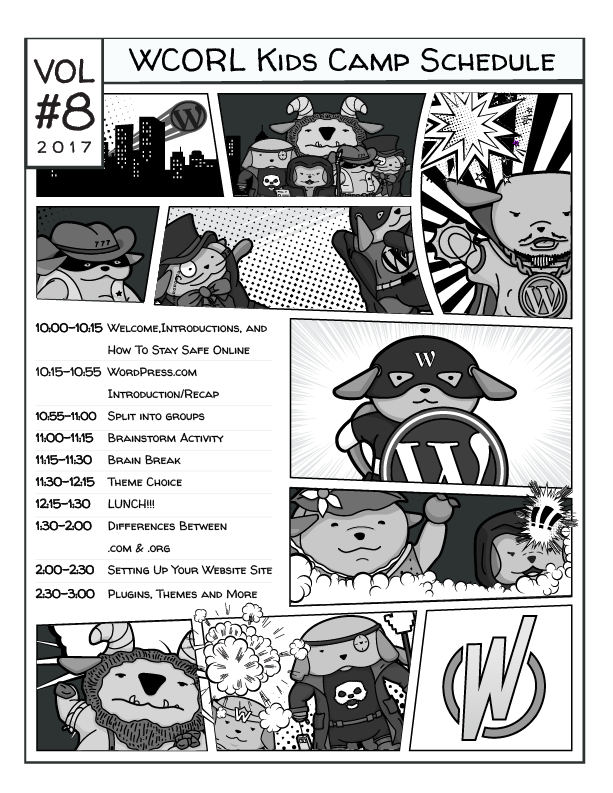 Shirts & Hoodies
The shirts and hoodies were printed by Hittn Skins, a local screen printer in the Orlando area. They did a fantastic job too. We were worried about timeline and colors, but they made the process a painless as possible. We strongly feel a good quality shirt with a discharge ink is worth the investment. We also left the year off in hopes people would wear them longer. The hoodie (Speaker Gift) has already become a daily staple in the office.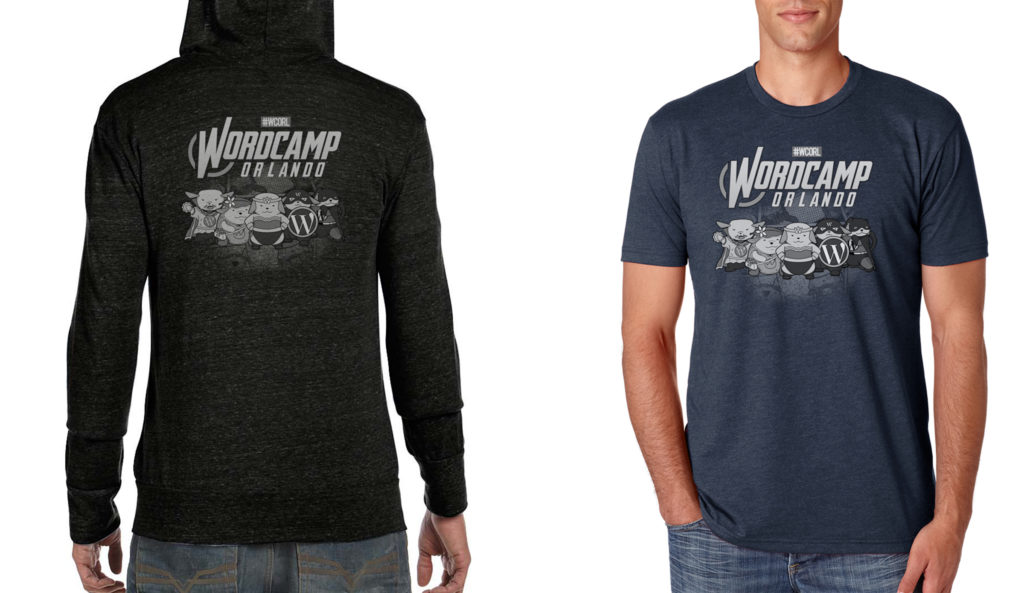 We will be adding this design to the shop later but it will not be as soft as the originals.
Pins
We did add 20 pins (each) of Captain W and Wonder Wapuu to the store if interested. We will have some at WCUS if you can find us.
The Site
Lets not forget the site its self – 2017.orlando.wordcamp.org. We had grand dreams about a fully immersive design that told a story with custom illustrations, like a large comic spread, but ran out of time for all the custom design work. We do however have sketch wireframes and maybe one day we will complete the idea.
The design inspiration for the limited version was old school Aquaman custom with a dash of Batman. We really liked the utility belt navigation and the city beautiful in the footer. We also added a handful of modern animations like the WordPress distress signal and flowing fountain, along with the menu icon spinning like 1960's Batman action.
The site did do its job, and they sold out again!
Hope all the superheroes have a great time at @WordCampOrlando this weekend. #WCORL pic.twitter.com/HR8Vml1Q05

— ThemeIsle (@ThemeIsle) November 10, 2017
Paparazzi
To see photo from the event, check out Design Theory's Flicker set – https://www.flickr.com/photos/designtheory/sets/72157666438276459
Jean and his team always do an amazing job.
Future Sponsorships
Orlando is our home camp. We would love to give this level of help to camps all around the world, but we can't. Wapu.us is a all volunteer and sponsored based community. We will help as much as we can. Wapu.us does offer paid Wapuu creation for business and brands. You could also higher the main crew behind Wapu.us, at Easily Amused. They are also one of our sponsors and have sponsored WordCamp Orlando various times throughout the years.
We hope you enjoyed all our hard work. We really had a great time making it.