We are pleased to announce our new WordPress Conference and Event Archive & Tracking tool. Have you ever wanted to see all the WordCamp Logos in one place? Ok, sure some of you, but what about a way to see all upcoming WordPress events, and check on conflicting dates? Now, do we have your attention? How about an easy way to see how many WordCamps and other WordPress events you have spoken at or been to? We have a tool for you! Oh yeah, and all the events info you would need like URLs, and socials too.
Did you know there has been about 750 WordPress based conferences and events since 2006, not counting local monthly meetup? Each year the number of events has gone up by at least 10%?
Next, we are going to go over all the new features quickly and will have future blog posts with more details later. We'll update this post as other posts are made and new features are added.
Under the hood
We used Central's JSON feed to pull in all accessible events into our system(CPT), Then we expanded it from there to support Premium and unofficial events. Along with more social info, extra links, logos and of course linking the events wapuus and swag.  We are not adding single Meetup events to the site at this time, but we did opt to link the local Meetup to their corresponding camps info sections, but more on that later.
Upcoming Events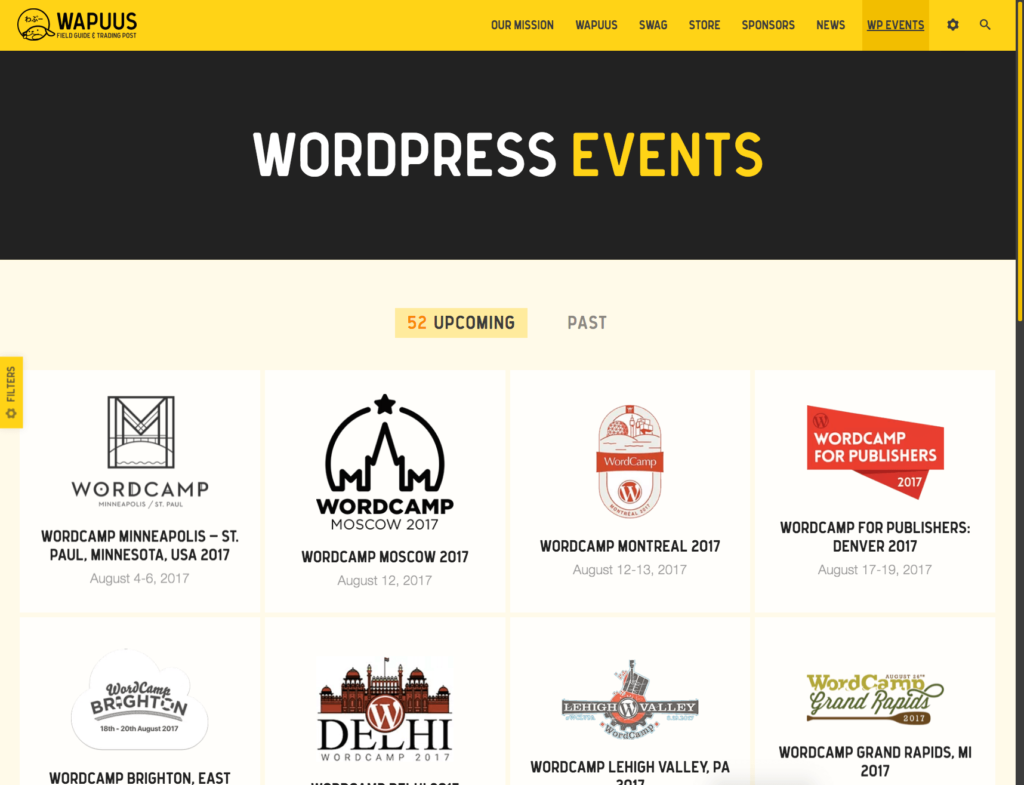 One of the cool things is to see all the logos in one place. Our community is so full of very talented people, and we are honored to help showcase, and bring awareness to everyone's hard work and give their wapuus a home.
The "upcoming events" view showcases all upcoming events we have in the system; which we update regularly. You can see there are currently 52 scheduled events worldwide, indicated by the number next to the upcoming button at the top. All events are listed in chronological order based on the current date.
We are going to add filter support in the next release, and you can filter by region, type, and theme to start.
Future Events here: wapu.us/events
Past Events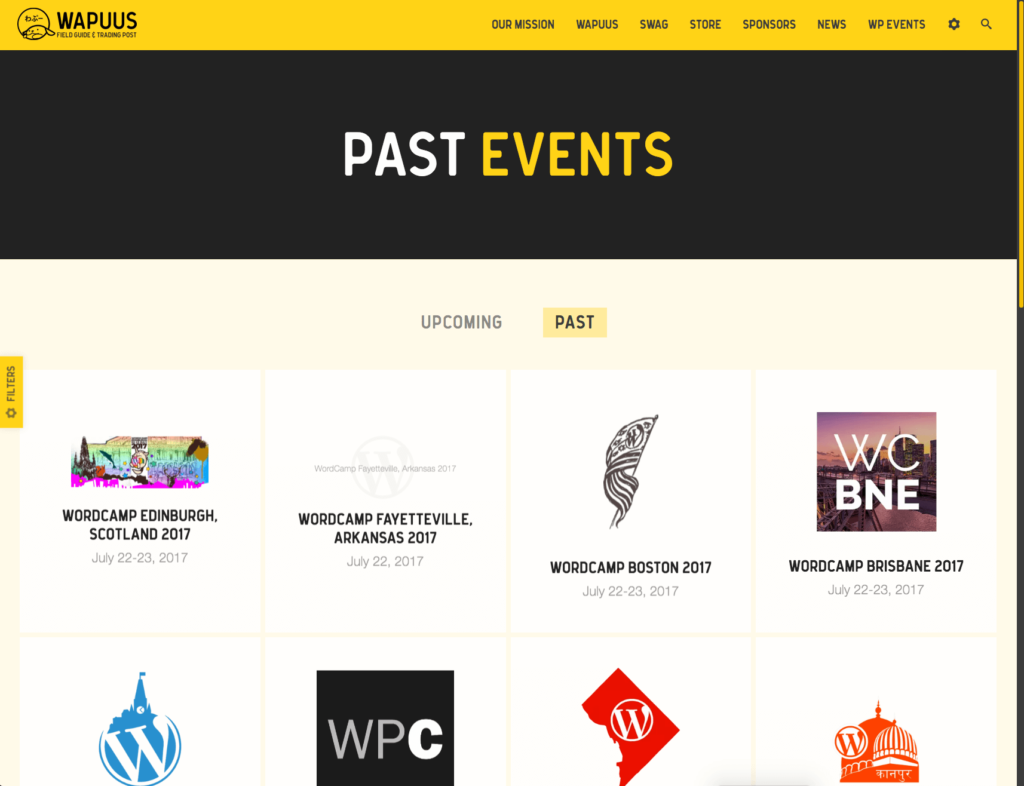 All events are listed in reverse chronological order based on the current date. You can browse all the way back to 2006. No swag or wapuus will show up tell 2011 for now.(Wapuu was not born till Feb, 2011.) We are working on past camp shirt swag ideas, and the old events will have that feature if we can track down the artwork. Fingers crossed.
Central does give us a lot of information in the JSON feed, but they don't really give us a logo. That means if the system is missing something, we have not gotten to the data entry for that event, wapuu, or swag yet. We would love your help to contribute anything you have access to, but more on that below in the field notes section.
Check them out here: wapu.us/events/past
Single View
We tried to make our new event system easy to use, and display as much useful information as we can. We start with what we could pull in from central, mixed with a little researching ourselves to find details like logos, and other links relevant to the WordCamp. We have some cool ideas for future features too but don't want to give them away just yet.
Taking a screenshot of the single events page would not do it justice. We strongly encourage you to explore the site and see all the useful information we are displaying on the single event view.
Single Event Example: WordCamp Miami 2017
Event Info
We started with the basic central data and added sortable taxonomies for Event Type, Theme, and Region. Want to see all superhero themed WordCamps? How about all events in South America? You can, or very soon anyways.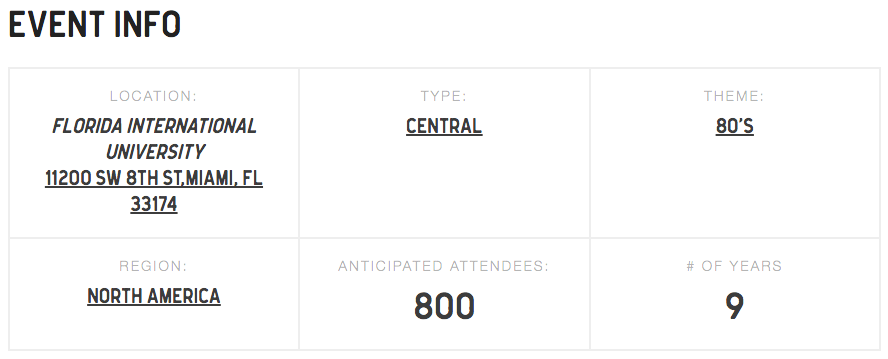 Central provides the WordCamps various URL's, and Twitter info, but we also added support for other websites and social networks. We even hunt down the buy links for tickets, if available, and of course, the event has not happened yet.
Right now we are just listing the Lead Organizer, but we are in the final stages of phase #2 for events that will also display everyone from the Event Tracker lists. We also want to highlight any of our sponsors that might have also sponsored an event. #comingsoon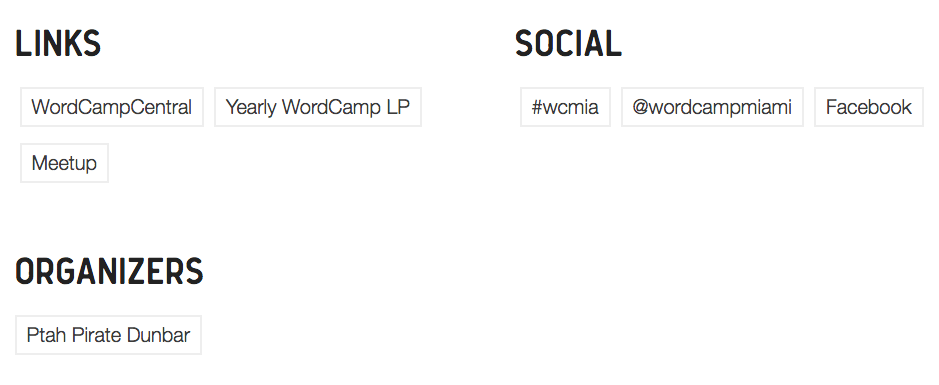 Related Wapuus and Swag
This view might be cooler than seeing all the WordCamp logos together. In this section, we are pulling in any wapuu or swag in the archive that's tied the event. There is still a lot of data entry left to do, so If your wapuu is already added, but not tied to its event, use the form at the bottom of the event's content, and we will get that updated for you asap. If your wapuu is not in the archive, check out this article on "2 ways to add your wapuu to the archive."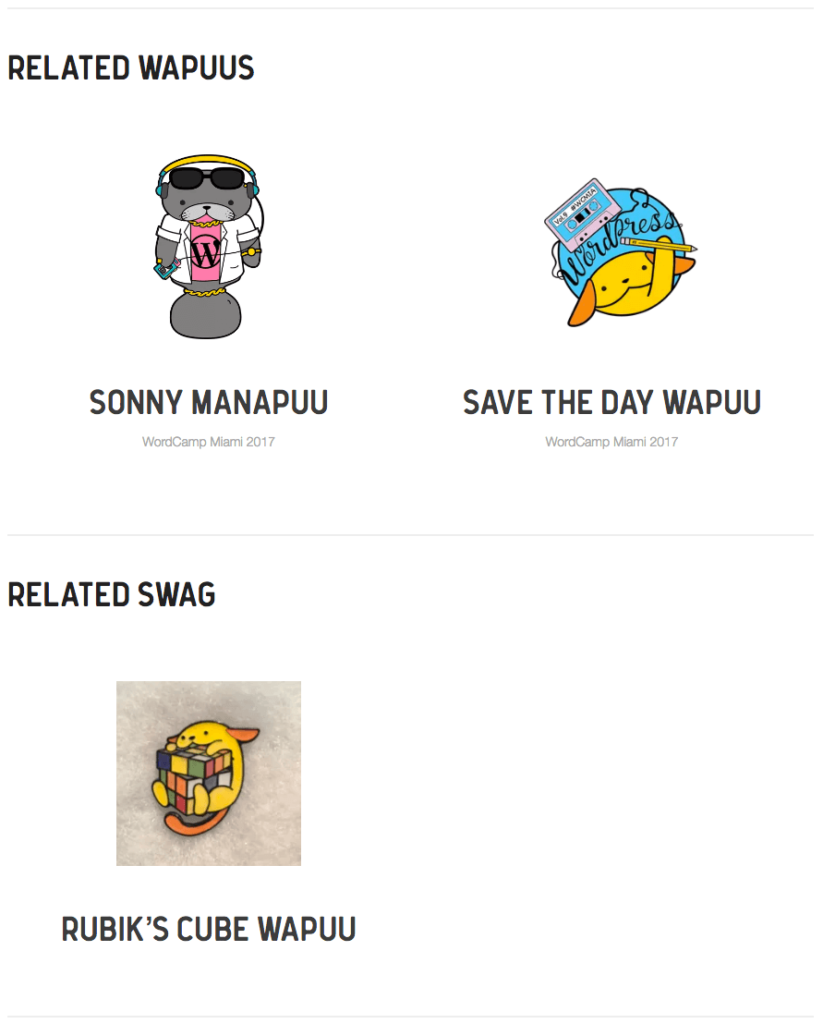 WordPress Event Tracker

This is a whole blog post unto itself about the new WordPress Conference & Event Tracker tool. For a quick overview, we created lists that are tied to all events. You can check any list that applies to you, and our system will track them. You can view your list under your profile when logged in.
With just a couple clicks of a button, you can now see how many WordCamps and other Conferences like WooConf, WPCampus, or WordSesh you have attended. Heck, you can even track all the unofficial #WCKaraoke "gatherings" too.
You will have to update some of your lists after the event has passed. Volunteering, speaking and attending can all change if someone gets sick or a hurricane comes and the event dates got moved and you can no longer make it. #ithappend
Full post here: WordPress Conference Event Tracker
Field Notes
There is no way we can make it to every event. The 3rd weekend in July had 5 WordCamps. This is where the community comes in. If you were there, we would love for you to get involved. All events (Wapuus & Swag too) have Field Note forms for the community to help provide missing data, or link to some cool photos, or social links. Everyone who helps update the archive gets credit on the site for helping.
Start Exploring
We hope you like what we have been working on. There are plans for future real world achievements based a number of events you have organized, volunteered, sponsored, spoke at, or attended. We don't want to say too much, and we are in early stages, but there is only one way to play, and that's to start filling out your events list with our tracker. Soon you will be able to publicly share your lists too.
We are adding more info to the Wapu.us archives every day, but we are still missing about 150 events. If there is an event or conference you feel should be added to the archive, please submit it via our event form here!
Submit an Event: wapu.us/events/submit-an-event
Let us know of any features you would like to see, and we can try to include them in future releases.
Thanks for the read,
— Wapu.us Team