Hello World,
This is an introduction to a community project our team over at Easily Amused has been working on over the last year in between projects, after hours and on some weekend time. It's a work in progress, but it's functional. Mostly data entry is left—more on that later.
We're excited to introduce to you the Wapu.us Field Guide & Trading Post. Wapu.us is a living wiki for all things wapuu. It's a community tool to index wapuus, their swag, the people behind them, and the events where they appear. Think: Wikipedia mixed with Dribbble and a dash of Etsy!
The rest of this post will go over what Wapu.us is, what you can do now, and what you will be able to do very soon. But let's start with the branding.
What's in the Name?
We wanted to pay tribute to these fun little creatures. If you do not know what a wapuu is, check out the history page. It seems almost every day there is a new wapuu. Some were being archived in github, but most were being washed away in the internet flood that is social media. We wanted a home for all of them. Not just a home, we wanted a showcase that tells their backstory, gives the artists credit, sets a strong foundation for all other wapuus in the future, and is a resource for the community.
The logo has 4 unique parts.
 The icon – It's the original wapuu hanging out with the Japanese version of the word wapuu ( わぷー ). This is also the Wapu.us favicon and used as our back stamp on all official Wapu.us pins.
Wapu.us – The term is the plural version of  "wapuu", showing that we are talking about a lot of wapuus. Example:  1 wapuu (wa-pooh), 2 wapuus (wa-poohs). The .us was really the shortest URL we could get, and it hints at the plural wapuus again, so it made sense. Wapu.us is a tool for the entire WordPress community and open to anyone that wants to participate, not just the people in the US.
 Field Guide – This term is important because the site is an archive of everything. Think explorer. We encourage fact submissions from the community. This is the Wiki functionality of the site.
Trading Post – Think of the frontier days, sometimes you traded for goods and sometimes you paid in gold. We're working on the ability to trade your wapuu swag with others around the world. And there might be an occasional item available for direct purchase, but in super limited quantity. This is not to make a profit, more to let others get their hands on swag from events they could not attend.

Our mission
Our mission can be broken up into 3 main parts.
Showcase wapuus worldwide.
Promote the WordPress community and supporting brands
Give back to WordPress audiences.
To read more about our mission, check out our missions page.
Wapu.us Site Features:
Below are some of the features we have been working on this past year.
Wapuu Archive
This is an archive for wapuus created around the world. We invite you to help us keep it updated! The search functionality allows you to search for various wapuus based off recorded facts and characteristics.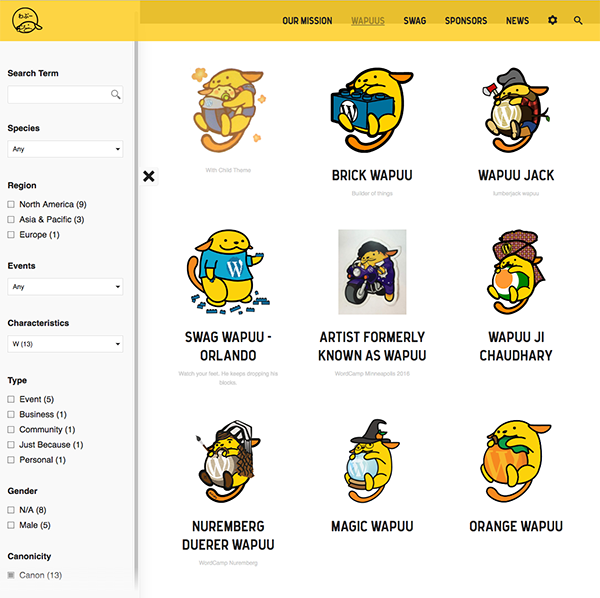 Single Wapuu View
Any info we have on any wapuu will be listed on its single view. A lot of wapuus are missing their information. We would love the community help filling in missing facts. Your able to see the wapuu's stats, fine a link to their editable files and check out any swag that was inspired by that wapuu.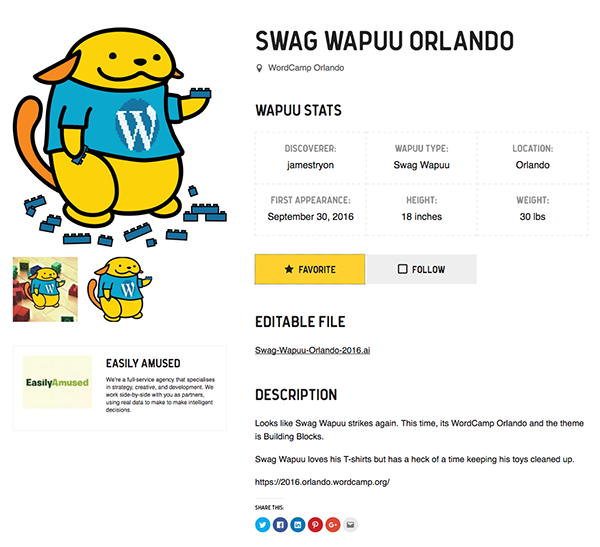 Favorite – Allows you to tag a wapuu. In the future, we will have filterable lists and activity feeds which the favorite function will allow.
Follow – Follow does everything favorite does, but will also send you email alerts as soon as something tied to that wapuu is added to the site. This feature is turned off until we get most the first round of data added to the site.
SWAG ARCHIVE
This is an archive for Wapuu related swag that's created around the world. We invite you to help us keep it updated! We will be adding search filters soon. They already work, not we wanted more swag in the archive first.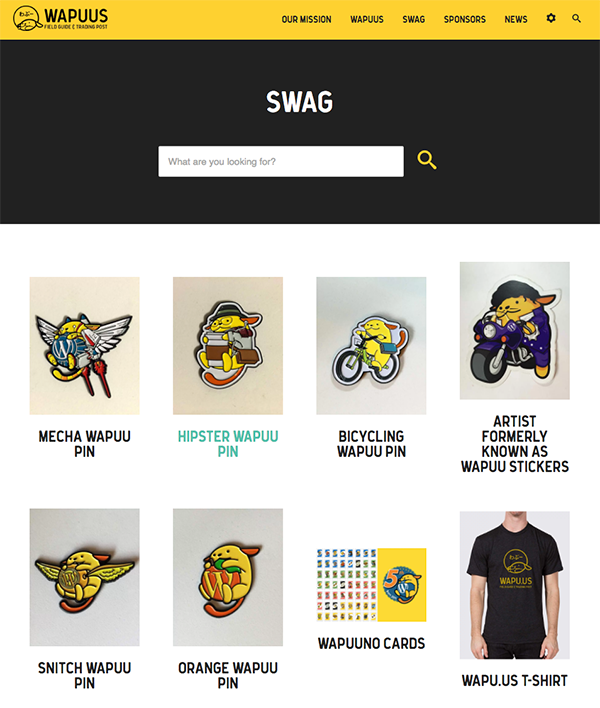 Single Swag Page
Any info we have on any wapuus swag will be listed on its single view. A lot of swag is missing its information. We would love the community help filling in missing facts. Your able to see the wapuu's swag stats, fine a link to their source files and check out any other swag that was inspired by the same wapuu.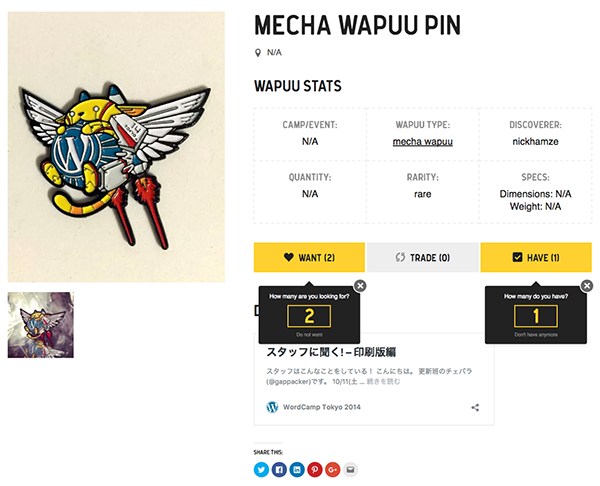 Want – You're able to indicate what swag you want. Think "Wish List".
Trade – You're able to say how many of this swag item you're willing to trade. Full trading functionality coming soon.
Have – You're able to indicate which swag items you already have.
WordCamp Miami made (highly coveted) Wapuuno Cards. You can indicate on Wapu.us that you Have a set, and show off to all your friends.
WIKI—Inviting the Community to Contribute
Every individual page on the site has a form inviting the community to help us update facts we are missing. The more updated the site is, the nicer the Wapu.us Field Guide will be, and better the filter will work. Like any field guide for the community, the more information the better. We encourage you to help us fill it out!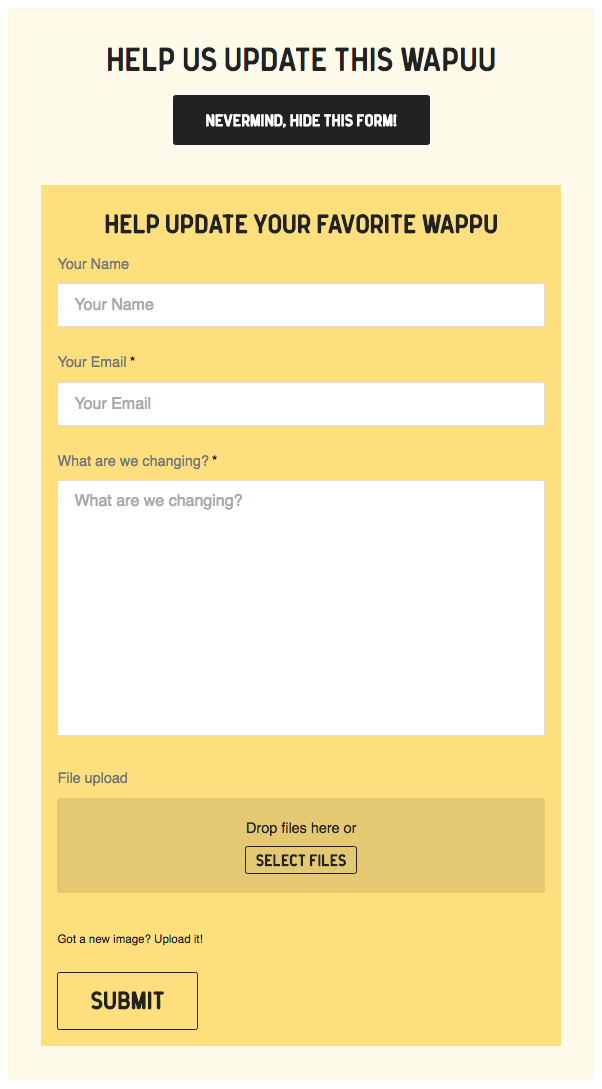 Sponsors
As part of the off-line experience, we're trying to have wapuus for every WordCamp around the world. We also plan to create and distribute custom wapuu pins and stickers for all WordPress based conferences in 2017. This will only be possible thanks to our generous and supportive sponsors. Our goal with Wapu.us is to provide a community tool and give back to WordPress. All profits will go back to the community. We are actively looking for sponsors for 2017, so check out more info about our Ambassador program here.
Coming Soon!
The following items are already in development, just not quite ready for the public.
Faceted Search for Swag – This already works. We are waiting on more swag to be added to the archive first before turning this back on.
Trade – Most the trade functionality is already in place. At this time you can indicate which swag you have for trade, but you can't actually trade with anyone yet. (Coming soon!) Your wish & trade list will be compared to others.
Events – The events page will showcase events where wapuus appeared. Wapuus are tied to events in our archive, so you can click on any WordCamp and see any wapuus or swag ever created for that event conference. As a bonus, soon you can also find out about upcoming WordPress events on the site. This is mostly done.
Muli-lingual – We want to support everyone using the site worldwide, and with that comes the need to localize the copy. This is very important to us, but we will need help from the community. We do add wapuus and swag to the archive in their native language. For example: https://wapu.us/wapuu/たこ焼きわぷー
To see what we have scheduled next, check out our upcoming featured page.
In Conclusion
We encourage you to go explore the Wapu.us site, submit your wapuus, and enjoy this community archive. Our aim is to make an awesome wapuu home for the community, so your comments and feedback are always welcome.