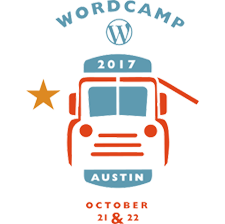 Buy Tickets
Austin is proud to bring back our first WordCamp in 3 years! We'll be getting together to share the most creative and effective ways to incorporate WordPress into our work.
Join us at the eclectic and very "Austin" Fair Market Venue on October 22 & 23, 2017.
We will have three tracks:
From 0 to 60 in 1 Day: A series of lightning talks combined with lots of hands-on time to get you moving faster with WordPress. Perfect for those learning how to use WordPress to build effective websites.
Making Money with WordPress: How do we use the software to make money? Speakers will dive into revenue channels like freelancing, e-commerce, and blogging.
WordPress as a Solution: Beyond a blog, beyond a static site, what can we accomplish with WordPress? Speakers will showcase their work using WordPress to power mobile apps, teach in LMSs, and integrate Marketing Technologies.
---
Related Wapuus
Have anything to add to the page? Send us all your photos, video, content, etc.
Click here to submit what you have and we will add them to the site.
---