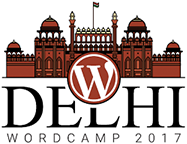 Tickets Sold Out
WordCamps are official WordPress conferences. It is a community event to help WordPress users & developers learn more and network with each other. It is a not-for-profit initiative and the ticket price is highly subsidised for the benefit of the community.
On 19th August 2017, Delhi will be hosting its first 'WordCamp Delhi' but its second WordCamp. The first one was held way back in year 2009 and it was called 'WordCamp India'.
WordCamp Delhi is going to be a full-day conference with multiple sessions on both technical & business topics related to WordPress. Renowned experts are being invited to deliver lectures and participate in panel discussions. The sessions will be useful for both newbies as well as advanced users & developers of WordPress.
---
Related Wapuus
Have anything to add to the page? Send us all your photos, video, content, etc.
Click here to submit what you have and we will add them to the site.
---